Happy Friday all!!  Today marks the last weekend you can vote in the 2014 Martha Stewart American Made Awards competition, as it ends Monday, October 13th. Thank you for all your votes and shares as your support has meant so much to me! It's such an honor to be a finalist – to celebrate 10 years in business on such a sweet note – so please help me surpass 3,000 votes and who knows, I just might make the top 25 finalists!
I thought to wrap up the voting frenzy this past month (I don't know about you, but I'm ready to get back to creating spectacular pillows for the holidays!)  I would shared more details about my pillows.  Because as my website, Deborah Main Designs, says:
"There are pillows. Then there are Deborah Main pillows."
And I thought it was high time I filled you in on WHY my pillows aren't just any old pillow – "The Story" behind my work.
You see, every pillow I make has a story…has a history to it in the materials and vintage brooches themselves….but also in WHERE and WHY I selected the materials I did. And most importantly, HOW I put the materials together, making it a one-of-a-kind Deborah Main pillow.
So I thought I'd start at the beginning and take you on a journey. So sit back, relax and enjoy "My story" of how I became a textile artist and how a pillow becomes a Deborah Main pillow.
It all started with the pillow below.
This delicate ribbon pillow was made for me by my best friend from high school, over 30 years ago. (Okay, I know…I'm dating myself here, but age is relative. You're only as old as you feel, and I'm just getting warmed up!!) I've loved this pillow all these years, as you can see how tattered and torn it is, and it turned out to be my very first inspiration. (I also have a few other pillows passed down generations from my Grandmother Jones and my Great Aunt Karen who was Danish).
Even though I did NOT know how to sew, this soft downy, handmade pillow meant so much to me that surely,  I could learn how to make a pillow like this, right?  I thought, 'How hard is it to sew a square?'
Fast forward 20 years, and it brings you to this pillow below, my very first ribbon pillow that I designed and sewed myself.  (I had my artistic epiphany in a local fabric store, Cush Cush, that was filled with colorful French ribbon, which is a whole story in itself!). I took a 3-hour sewing class from master seamstress Leslie Bonnell, owner of  Stitch Lab, which was then a small sewing studio in a tiny building behind Leslie's home in South Austin. (Check out Stitch Lab's great classes HERE where they've grown to TWO bungalow houses with almost 100 classes a month!). I signed up for a "Pillow Making Class", where you could come in with all your supplies and leave with a finished pillow ready to use in your home decor.
I thought WOW, a finished pillow! Now how cool is that? I can do that!
I remember so well Leslie's expression when I timidly asked her if I could make this ribbon pillow, as the bundle of French ribbon spilled from my hands.
True Confession Here: After I had my artistic epiphany at the fabric store and bought the gorgeous French ribbon, I actually hid it in the back of my closet for about two years, because I didn't want my husband to see how expensive all that ribbon was!
It was definitely a complicated endeavor for my first pillow, but Leslie patiently supported me (even when I couldn't remember how to thread the damn sewing machine!) and voila, there you have it.
Now fast forward to 2004 when I answered an "Open Call" for designers by Patty Hoffpauir, the owner of The Garden Room here in Austin.
You have to remember I was not a designer and to think that I could go to an open call with a few pillows I made at home was quite a stretch! I had seen pillows in her store window, so I called to see if the panel of judges would look at my pillows, and they said yes. Oh boy, was I ever nervous!!
I knew I could not go in front of this prestigious panel with just one pillow, so I had to make two more, cause three would make a small grouping. But the problem was I hadn't taken the sewing class for 2 years and I didn't even remember how to thread the sewing machine, let alone how to sew!   So I stayed up super late (I think this was the beginning of my #NightOwl habits)and whipped out two more ribbon pillows, praying as I was turning them inside out, that they would indeed look like a pillow.
I remember so vividly how my husband came out from our bedroom into the dining room where I was working, like at 2:00 a.m. in the middle of the night, and said "What are you doing up so late?"  And my response was "I'm having fun!". At that moment I knew I was on to something. I was beginning to create my art.
Now fast forward 10 years, hundreds of pillows later, and too many fabulous experiences to mention here. But it gives you just a little history of how Deborah Main Designs came into being.  Now I want to share with you the story about THE pillow that you've been seeing for the past month featured on my profile for the 2014 Martha Stewart American Made Awards, as this pillow below is a great example of all that goes into making a Deborah Main pillow.
Mint Green Bow Pillow with Vintage Julianna Brooch
 First, while I was building up my collection of vintage brooches, I happened upon this AMAZINGLY GORGEOUS, champagne-colored, vintage brooch by Julianna. Julianna costume jewelry was made by DeLizza & Elster, a jewelry manufacturer that started in the late 1940′s. There's lots to read about costume jewelry and Julianna designs is the perfect place to start. Please see many more of this company's pieces and the history behind the stunning jewelry craftsmanship HERE. There's also many costumer jewelry books where you can learn more just like I did.
Once I had the brooch, which is one of my all time favorites because its is in mint condition and the coloring is just so elegant and beautiful, I knew I had to find the perfect fabric to support the exquisite elegance of this pristine brooch from the 1950′s. So a year went by and then BAM one day it just all came together. My friend April Meyer, another textile lover (aka: fabric junkie) who owned the Fabricker at the time, acquired from a private estate four pieces of gorgeous vintage silk velvet that was only about 18 inches wide. I bought every piece as I loved it! (I often collect fabric I love not knowing exactly how I will use it at the time of purchase).  I loved how the vintage brooch, with it's Aurora-borealis stones and prong setting, looked on the soft mint green velvet. But it was when I was bopping around Austin vintage shops (that I love to do to get inspiration!) that I spotted the finishing touch….it was standing right before me, a gorgeous 1960′s mint green and gold dress with a partially torn sleeve. I said to myself, "That's it!That's the perfect fabric to finish out my design for the Julianna brooch!"
One of my most favorite things to do as an artist is to re-purpose vintage cocktail dresses from 1940′s through 1960′s into pillows! I couldn't wait to get back to my studio and put these 3 pieces together, the vintage brooch, the 1960′s dress, and the vintage velvet. I just knew the colors were all going to be fabulous together. THAT is just one way a pillow becomes a Deborah Main pillow.
I can imagine someone wearing the gold accented dress in the '60′s and the vintage brooch, and the kind of person that had this gorgeous velvet tucked away in their private sewing room.
My job as an artist is to take all these amazing materials of the past filled with rich history and transform them into contemporary, striking works of art in the form of a decorative luxury pillow.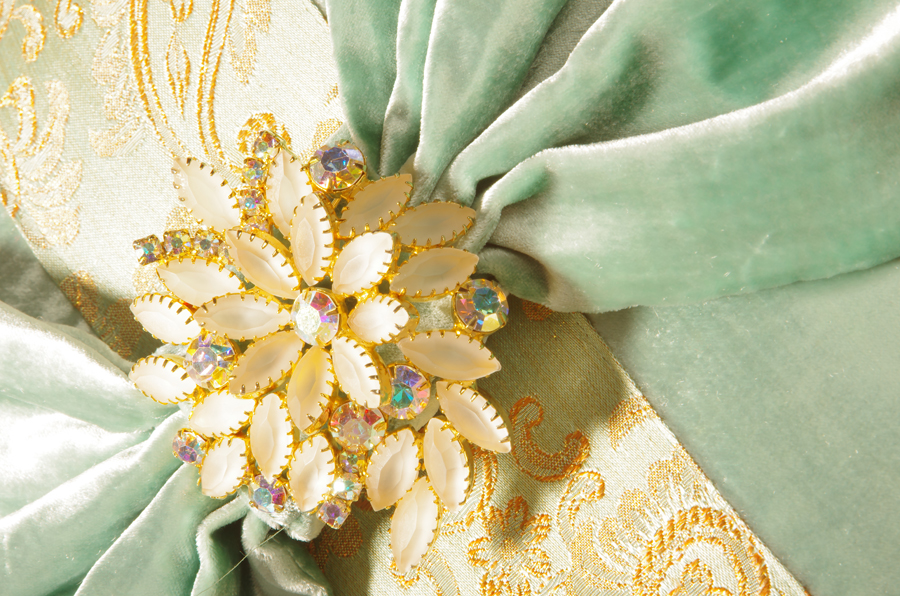 Detail of the vintage Julianna Brooch.  Photography by Gregg Cestaro.
You can see in the detail photo above how the soft champagne-colored stones coordinate perfectly with the mint green dress and velvet and how the setting of the Julianna brooch complements the gold floral accents of the dress.
When I put all three vintage materials together, it's like a high of all highs – pure joy and excitement of having found the perfect ingredients to make the next Deborah Main luxury pillow.
Next came the design. I had always wanted to create pillows featuring a massive bow, and the velvet was very stiff, so it was the perfect texture to keep the bow from flopping around. My daughter helped put the bow together with just the right amount of pleating and I decided that a strip of the 1960′s dress needed to be on the front and the back of the pillow. When you see this pillow in person, all this will make sense. Give me a call  to come see it, or better yet, it's still available for purchase on my website Deborah Main Designs. and comes in it's own signature black gift box. (We're working on making EVERY Deborah Main pillow come in it's own custom gift box.)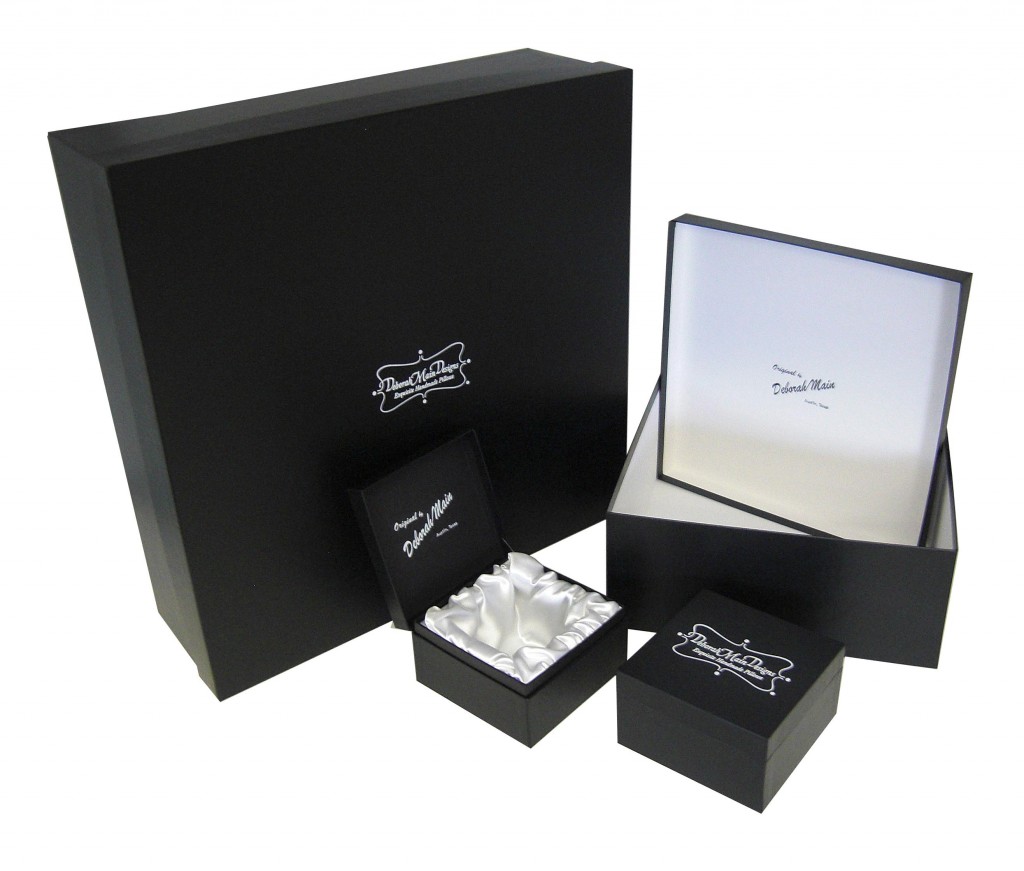 I'm still working on my new business model for the next decade of Deborah Main Designs, and the language to express to you all that goes into making a Deborah Main pillow.
As you can see, they are not your every day pillow. To me, and many others, they are works of art that I have created to bring you, and myself, joy and beauty for generations to come.
So stay tuned in the new year, for exciting new developments with Deborah Main Designs, and you too can start collecting one pillow at a time. (In fact, now would be a great time to collect before the prices go up. Call me at my studio 512.447.9807, as I have many, many pillow designs not up on our website). In the meantime, if you've enjoyed a little of my story, I would greatly appreciate your support by voting for me in these last 3 days of voting right HERE.  Voting for the 2104 Martha Stewart American Made Awards ends on Monday, October 13th; winners announced October 17th. Thank you for all your support and making me a finalist in this prestigious national competition. It's a great way to celebrate my 10th anniversary in business. Let's go for the top 25!! Thank you!! It is a real honor, and brings me great joy, to be able to share my art with you!! XOPG