Is there such a design trend such as "Vintage French Modern Tribal"?  Well, I'm not quite sure….you'll have to let me know what you think. At least that's how my pillow creation turned out for the upcoming Boutique Design West 2015 Fair "Invincible Me Pillow Art Challenge" and what I'm going to call it.
"The "Invincible Me Pillow Are Challenge" is for a charity dedicated to fostering the hidden talents of battered women and providing support needed to build confidence and a better life." - BDWest Fair.
First off, I must thank friend Candy Holladay of Art of The Spa, my Twitter pal who loves all things vintage and has the most amazing spa brunch podcasts. She suggested I enter the contest.  So I did. Shipped the pillow off today and the silent auction will take place at the BD West Fair on April 9th.
Now, I have NO idea whether my pillow creation even falls into the parameters of this contest because there were no real guidelines except "Design a pillow not to exceed 100 pounds and can be up to 165 inches in length and girth combined." Now THAT's a large pillow!!
But I DO love a pillow challenge…especially when I have no clue as to what I'm going to create!
That's why it's a challenge to me, because it's a process that takes me, as the artist, on a creative journey through the:
research and thinking stage,
inspiration stage,
experimentation and creation stage, to the
"Aha, I've got it!" production stage.
I absolutely love it when the design process all comes together – that's the most wonderful creative euphoric feeling for me!  And I love to explore all different textures and colors with textiles that are vintage or new, re-purposing them into one-of-a-kind pillows.
So for this week's #TextureTuesday, I thought I'd take you on a little textural journey of my creative thinking process so you can see how and why I select the materials I do for a particularly design and what all goes into making a Deborah Main one-of-a-kind pillow – particularly this Vintage French Modern Tribal one for the Pillow Art Challenge.  Let's just say, there's a whole lot of thought, creative textures to work with, trial and error, panic (if there's a deadline!), late night meticulous sewing marathons, and just pure joy for being able to do what I love – create beautiful luxury decorative pillows for you that, in and of themselves, tell a story.
So, sit back and relax and enjoy the making of this highly textural "Vintage French Modern Tribal" pillow for the "Invincible Me Pillow Art Challenge" taking place at the BD West Fair in the San Diego Convention Center April 8-9, 2015.
My Thought Process (aka "Research & Development) – The very first thing I did was think of some color groupings that I wanted to work with and I even received some input from Facebook friends, thank you!  I loved all the vintage and new textiles in my collection, and it was a pretty close tie on all except the orange…
But the most interesting textures for me were in the gray/black color grouping.
The second part of my research was the hospitality industry and Boutique Design West Fair, so I researched the exhibitors and the websites of the "2015 Boutique 18 Honorees" . That gave me a really good idea of what kind of colors and textures are on trend for hotels, resorts, and restaurants.
In fact, researching BD West Honorees' design work, which was really inspiring, kind of set the mood for my whole creative process.
I knew I wanted the pillow to be modern, but this was an "art" challenge, so I had to figure out a way to make it both modern and artistic without being too froo-frooey. So no vintage jewelry and no curly ribbons for this design….it had to be elegant and contemporary for the modern clean lines in the hospitality industry spaces.
The Inspiration Stage – I was really inspired by all the colors and textures I saw on the websites of many of the 18 hospitality design firms being honored in 2015. I saw a lot of wood, metal, and warm gray and  copper colors. So these vintage, re-purposed and new textured textiles, trim and belt below really inspired my pillow design.
I wanted to handcraft a pillow that not only featured my signature style of texture and color, but also maintained the clean modern lines of hospitality spaces.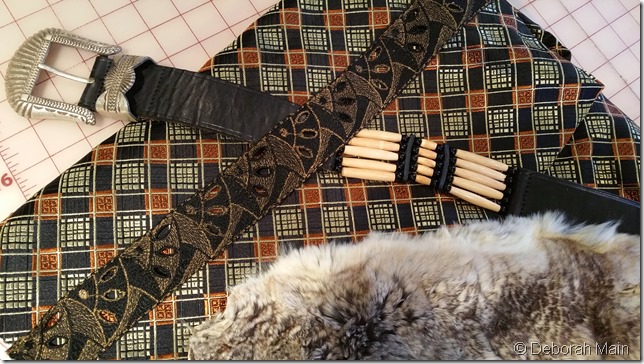 The Experimentation & Creation Stage - Keeping the color palette in a contemporary gray, I re-purposed a putty gray designer fabric sample as my canvas – a crocodile-pattern textile by the family-owned Italian company, Dedar (below).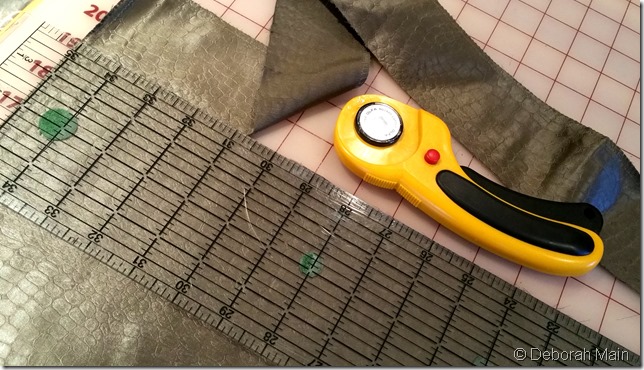 For artistic ornamentation, I selected one of my favorite black, vintage French metallic trims in an Art Deco pattern (below). This particular trimming is from a vast collection of rare vintage French trim that I've collected from old European factories that no longer exist.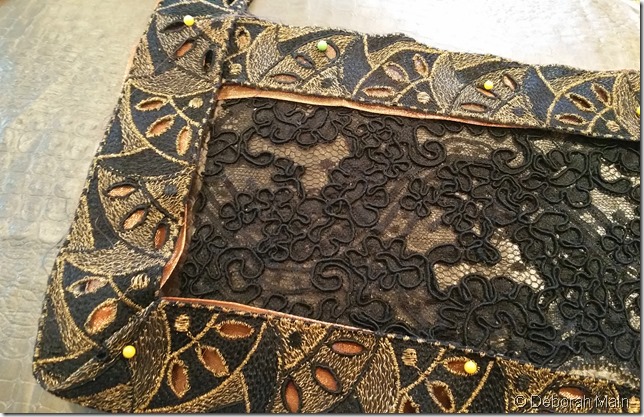 Inspired by the warm colors of luxury boutique hotel interiors, I placed a copper mesh ribbon underneath the French trim so that the color peeks through the intricately cut metallic pattern. Below is the back of the mitered corners with the copper mesh sewn to the vintage French trim. I tried some vintage French lace (above) as the backdrop but that's what the experimentation stage is all about – trying different materials and textures. I loved the lace texture, but as you read further down, I changed it a few times to get the exact look I was after and it resulted in replacing it with an ultra-soft vintage fur.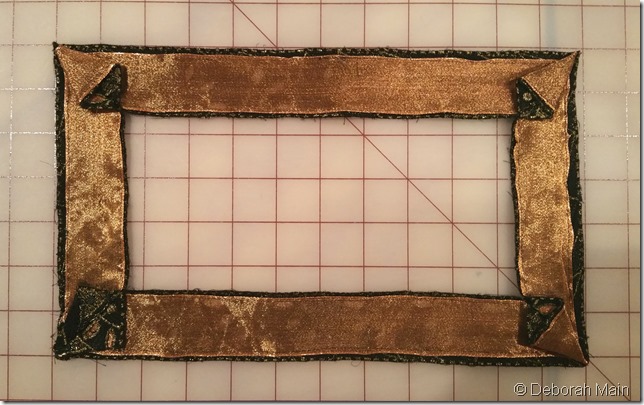 Below is the vintage belt that I've had in my collection for quite some time now, just waiting for the perfect project!
The texture of this belt with the shiny black leather and black and golden wooden beads really spoke to me….and became the driving force of my design. 
I took it to one of our great local small businesses, The Golden Slipper, to get it cut and properly prepared so my vintage Necchi sewing machine (which is not industrial) could sew on the leather.  The belt leather was too thick, so I had them attach a thinner leather on each end.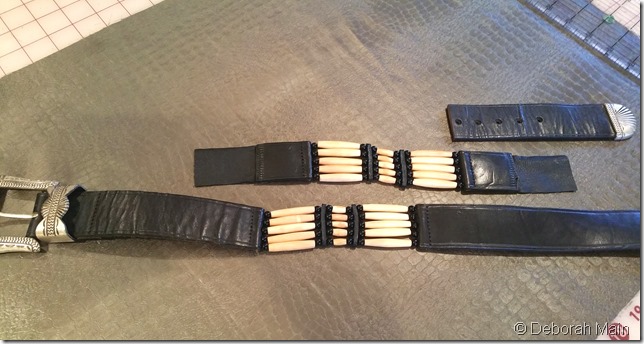 Here I am, below taking the exact measurements of the rectangle frame I created so the belt would line up perfectly flush with it.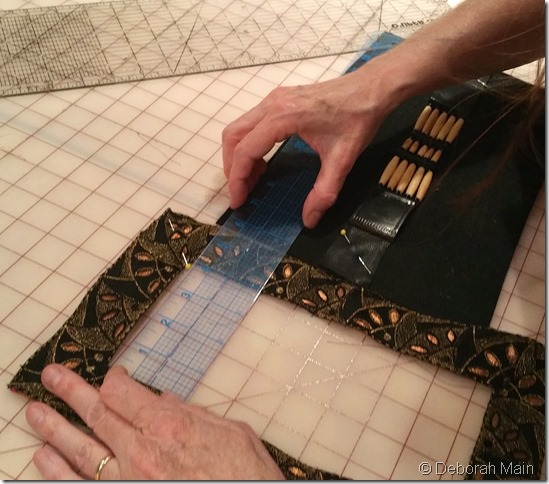 Here's my vintage sewing machine where I'm sewing the copper mesh ribbon to the back of the vintage French trim. (My machine is graced with fun stickers my daughter put on there when she was about 10 years old, when she asked if she could put her sewing machine right next to mine in my studio. Now we design together. I'm so very blessed with such an amazing loving and talented daughter! The top sticker says "I love my Mom". )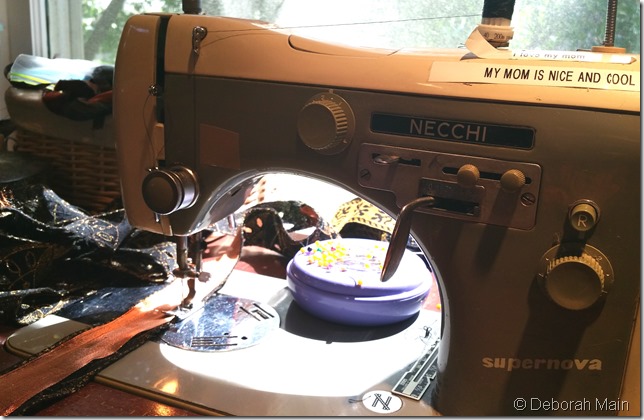 Here is the final frame I sewed together (below) for the centerpiece of the pillow, the vintage French Art Deco pattern trim with a layer of copper mesh underneath.  I'm not exceptionally talented when it comes to mitering corners, so I thank my expert seamstress who gave me an emergency lesson.  It's kind of like zippers…not my favorite part of sewing, but must be done absolutely perfectly!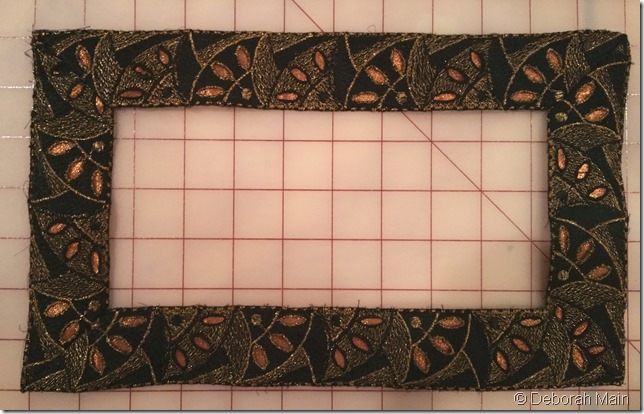 The "Aha Moment" Production Stage – It was really after I put the copper mesh ribbon underneath the vintage French trim that I had my first "Aha moment".  I then knew exactly which textile would be perfect to give the pillow that modern sensibility – a new copper and black, diamond-pattern silk brocade that I hand-selected in Suzhou China (below). And then my second "Aha Moment" came when I remembered I had the vintage Chinchilla fur.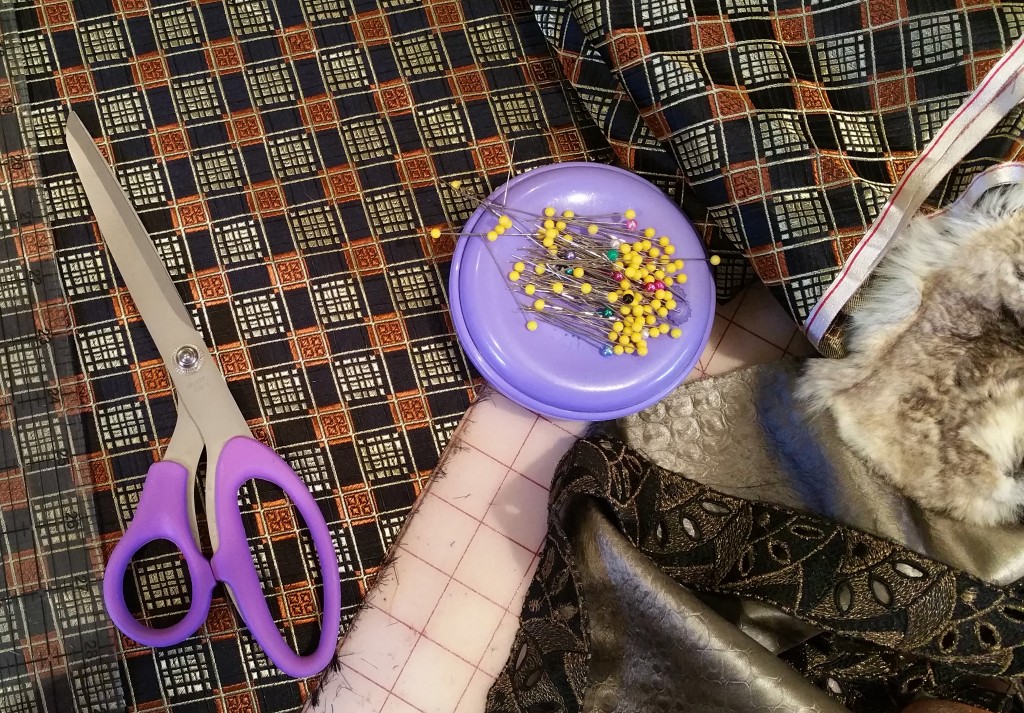 The artistic process of creating the centerpiece, working with black Victorian lace at first, soon evolved into a four-layer applique I meticulously handcrafted. A richly textured, vintage black leather belt with warm golden wooden beads was my focal point to be framed by the vintage French trim. To offset the organic nature and movement of the beads, I contrasted the textures by creating an ultra-soft, luxurious bed of vintage Chinchilla fur (instead of using the lace).
Suddenly, my applique was transformed from a vintage French design into a tribal centerpiece with a definitive global, yet elegant and modern look and feel. How perfect I thought for the international clientele of the hospitality industry.
 You can see here how these textures captivated my creativity!  I love how they are all so very different from one another.  All I had to do was figure out a way for the fur to not come up between the beads. The beading needed to present itself in the clean, modern lines that I wanted the belt to demonstrate as the focal point of the applique centerpiece.  Easily solved with a backing of black thick fabric for stability of the beads.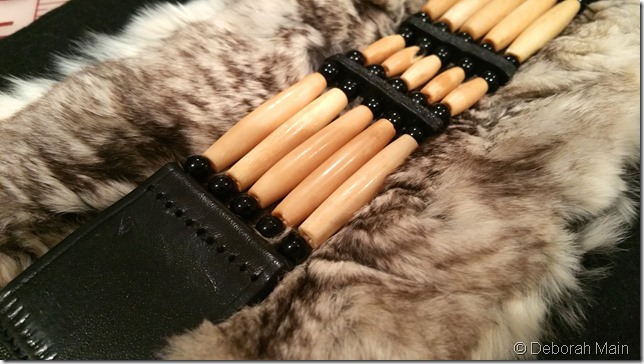 Here I am hand-stitching (below) the applique I made for the pillow's centerpiece onto the putty gray crocodile top fabric.
I'm particularly proud of this image below (tongue in cheek of course!) because I was able, late at night, to take it with my nose. Yup, that's correct….it's hard to take pics of yourself sewing if you don't have a tripod….so my long pointy nose came in handy indeed!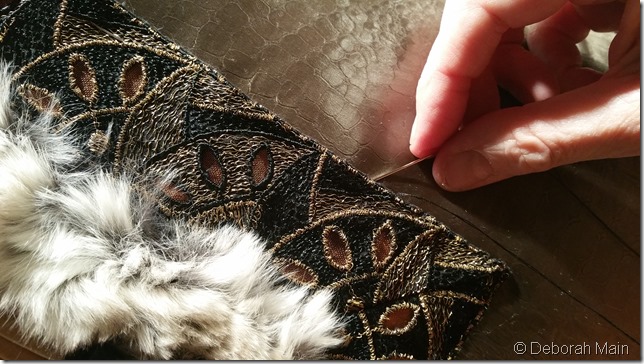 I am very proud to enter my one-of-a-kind luxury pillow "Vintage French Modern Tribal" for the "Invincible Me Pillow Art Challenge" and have it auctioned off at the BD West Fair to help raise funds for women, not as fortunate as many of us, who are working hard to become strong and  "invincible" through rediscovering their independence and self worth. Thank you for this wonderful opportunity to create and donate!
What I love most about creating one-of-a-kind luxury pillows is the surprising transformation that comes from mixing together new and vintage materials, which alone make one statement, but when combined, create a totally new and different experience with multiple layers of depth and texture.
Now please enjoy these gorgeous images below that award-winning photographer Gregg Cestaro took of my pillow on location at John-William Interiors, a long-time Austin fine furnishing and design center.  Follow along on social media April 8th and 9th, and if you are IN San Diego and attending the fair, please go bid on my pillow and many others to help this charity.  Till next time, when we take a peek at the upcoming Highpoint Market, enjoy the spring weather! XO PG