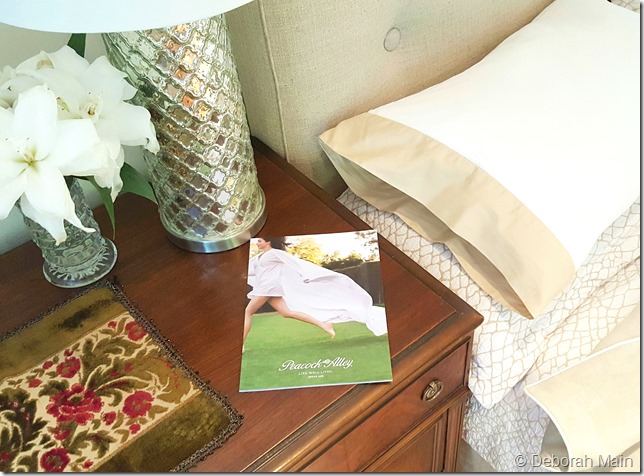 What a whirlwind of an amazing Austin City Limits Festival!! How awesome was it to hear all that live music and come back to a cozy South Austin bungalow, high on a bluff above the crowds, nestled in the quiet, relaxing Zilker neighborhood. With tranquility awaiting you on a patio under a massive Shumard Red Oak tree and in a bright, contemporary guest room, what more could you ask for?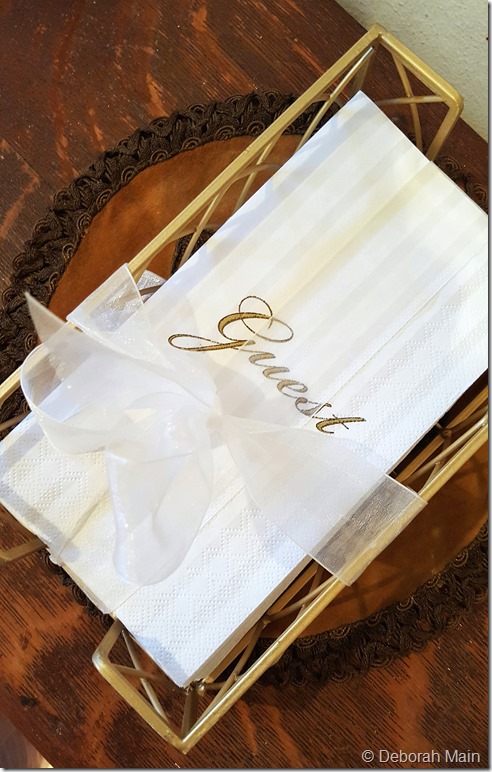 Our first time guests of The Collier Guest Room thought it was a pretty sweet deal – especially the Peacock Alley luxury sheets and the extra deep bathtub!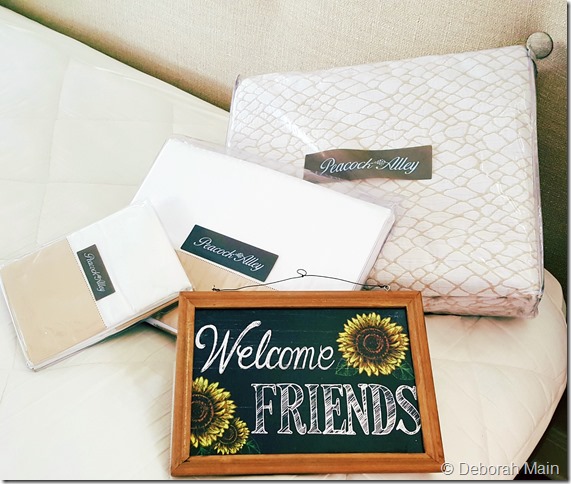 In fact, we lucked out with having THE best guests for both the 1st and 2nd weekends of ACL. Our first experience as Airbnb hosts could not have gone more perfect!
We are blessed indeed being first time Airbnb hosts and I've got some awesome texture, pattern and color to share with you, as well as some tips to make it easy for you to prep for your holiday guests, or if you want, for your first City of Austin Short Term Rental. (STR) Being that we're "Empty Nesters" as of August, it was perfect timing for my hubs and I to jump right in with ACL. In fact, it was so successful, my husband David asked, "When are our next renters coming?"
So my friends, The Collier Guest Room is officially open all year round!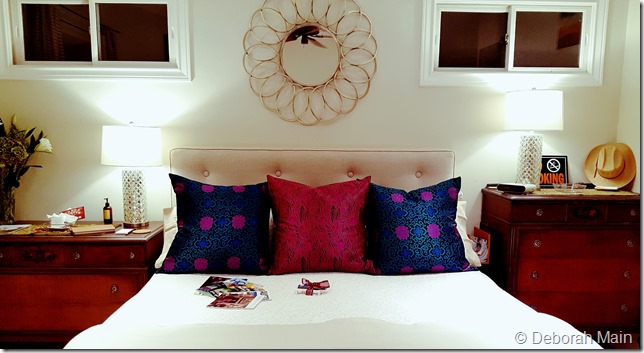 Now let me first preface this post with that I'm breaking ALL my own rules about Texture Tuesday being brief. This is NOT short. But IS filled with inspiring pics. Because frankly there's been so much going on I have more posts to write and share with you than humanly possible. That's why I'm trying write two posts a week now: Texture Tuesday and a Fabulous Friday for your weekend reading. But since i'm traveling this week to Philly for a family wedding, there is NO blog schedule this week, but I hope you enjoy this one, as i'll be unplugged for the weekend. And next week I have an exciting interview coming up with Kristine Rodriguez of Responsive Textiles, who debuted her fashion line at NYFW.
So now that we pulled ACL renting off successfully, let me share with you 6 ways to create a contemporary luxurious guest room, with texture and color, in 2 weeks, which is about all we had once we realized people had booked our room the day it was posted.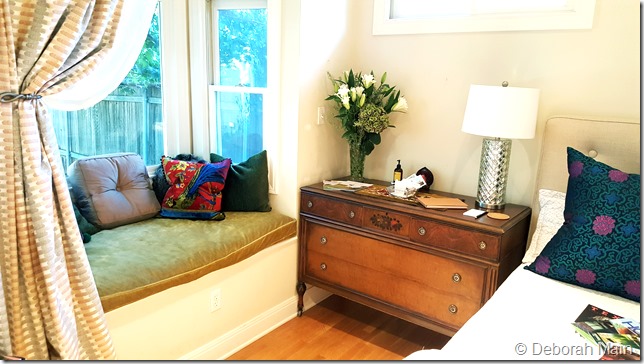 But first, some back story. I have a lot of people to thank for helping my husband David and I to pull this off in such a short time: PL&D/Patrick Landrum Design , Peacock Alley, Bolt Fabrics, Accent Upholstery, my seamstress, and Room Service Vintage. But most of all I have to thank my dear friend Cynthia Bloom of Cynthia Bloom Collectible Jewelry who has been, along with her husband Jim, Airbnb SUPER HOSTS for 3 years with 145 5-star reviews (WOW!!) on their Heart of Austin listing.  If not for Cindy and our weekly "Festive Friday Lei Day" trips (below image) to Barton Springs Pool (BSP) to de-stress, I would have been renting in October with ZERO guests, because I had my dates ALL wrong.
"But I still don't see your listing?" So I told her what it was named and how we only had it open one of the weekends cause we'd be away at a family wedding the other weekend. Then she says, "but ACL starts the last wknd of September!!!" Me, "Gulp!!!! What!?!?"
I checked dates three times during the summer, but somehow I must have posted prior year dates. So boy, did we ever have to get on the move!! We didn't have a month to get the room ready, we had just 2 weeks!! And below is what it looked like…..YIKES!!
(Important Note: No, we are not slobs. We are merely in a MAJOR life transition with our girls moving into their own apartment, having to squeeze into our tiny bungalow my massive trade show display shelving units, and having broken shades and curtains because we haven't remodeled in 16 years! It was way overdue for a fresh look. (Now, NO judging as I show you the reality below. Also, these are not professional-quality photographs, as they're taken by me.)
But what's a woman to do? NO one makes custom curtains and headboards with that short of a lead time. That's where doing business with other small businesses for 30+ years and hiring a professional interior designer comes in handy.
I couldn't believe all the support we had from local small businesses to help us whip our guest room into shape. Thank you SO much!! You see, it was OUR master bedroom of our home we were renting and we had to move almost everything out of it, plus prep the girls old bedroom with a bed for us to sleep in. The only thing we ran out of time and money for, in such a short time frame, was to repaint it….but that can always come later (FYI: In case you're wondering, the whole cottage deal fell through cause of city coding – a year long story, I will not bore you with).
But to apply for a STR license to rent a room in our home was a piece of cake. Just 30 days after our application we had out short term rental license. Thank you City of Austin!
Now onto those 6 steps to update your guest room any time of the year with a new, fresh contemporary look:
Consulting with a professional interior designer is a great first step. I am ALWAYS amazed at how quickly an experienced designer can assess a room and help you figure out how to make the re-decorating affordable too. And little things like all the different measurements needed for replacing curtains.  (FYI: there are NO ready-made curtains in a department store that are over 96″). If you're lucky to have a designer as great as Patrick Landrum of  PL&D/Patrick Landrum Design, you're good to go. Cause Patrick picked me up one afternoon and we shopped for as many ready-made things we could find.
Here again is where an experienced professional interior designer knows things that often you might not stop to think about. It's not instinctual for me, so having Patrick to help was essential to get me started creatively.
THREE things I learned from Patrick:
Matching lamps pull a room together, and the shiny metal (which I thought would overpower a linen headboard and my Grandmother's antique matching dressers) reflected a lot of the colors in the room, particularly that fuchsia peacock feather center pillow and the over stuffed teal silk brocade pillows.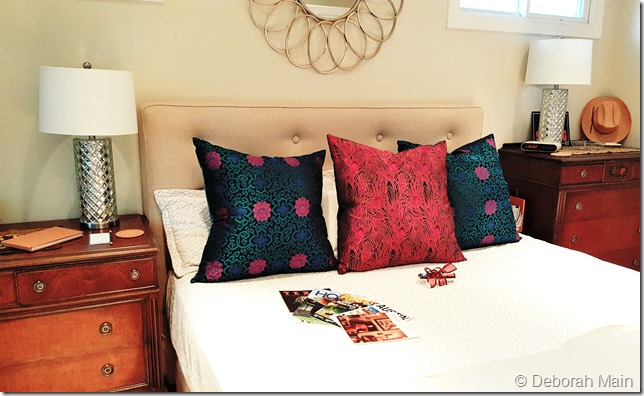 Mixed metals are very hot right now:  So don't worry about having everything all gold-tone or all silver-tone. The below image shows a wonderful geometrical marble table in a gold finish….which the window desperately needed something, somewhere to rest a drink or magazines and it brought out the pattern of the custom curtains too. We also selected the same kind of warm metal, 3-dimensional loop look for the mirror but more in a brushed silver. And the loop handles on our antique bureaus are silver with an aged patina.
High/Low and New/Old create the perfect mixture for a high traffic guest room: We didn't have the budget to go all out on everything, and since you don't always know if a guest, or in our case renters, will treat your possessions as well as you do, we had to make some tough choices.  We took out anything of value that was irreplaceable, except the large, very heavy antique dressers and a couple paintings from our kids that were way up high. Mixing in less expensive contemporary items with more expensive custom and antique items created a wonderful fresh contemporary balance and helped keep costs down.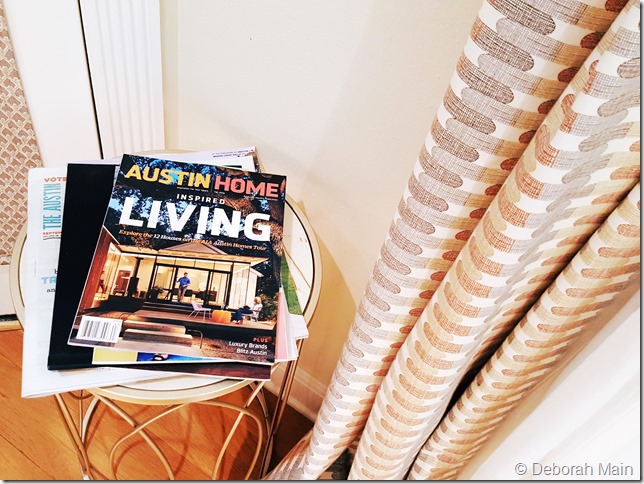 2.  Working with quality small businesses on which you can depend:  Often designers have their own workrooms, but usually they need more than 2 weeks lead time. I was blessed to have done all our re-upholstery 16 years ago with Dana at Accent Upholstery right down the street from me.  I had a great, durable linen textile in my own studio (Patrick's suggestion), and as a long time customer, Dana just whipped that headboard out right on time beautifully! Thank you Dana!!

3. Placing your custom drapery/shade and pillow orders immediately with vendors you trust implicitly.  Once we realized we were not going to find exactly what we wanted for the 110″ curtain length for the guest room (we did find some pretty curtains at 96″ for our family room, so we could close those while guests were on site so they'd have their privacy and so would we), again, I reached out to another local business, my very own secret seamstress for Deborah Main Designs studio. She created beautiful, lined, and black out (where no light comes in) curtains and I hand-stitched the brushed nickel rings in place.  She also whipped up some pretty dandy roller shades as I really wanted to keep the honey-colored burlap valances I had. (We had looked into quick custom shades but the lead time wouldn't meet our deadline). Many thanks to my expert and speedy seamstress!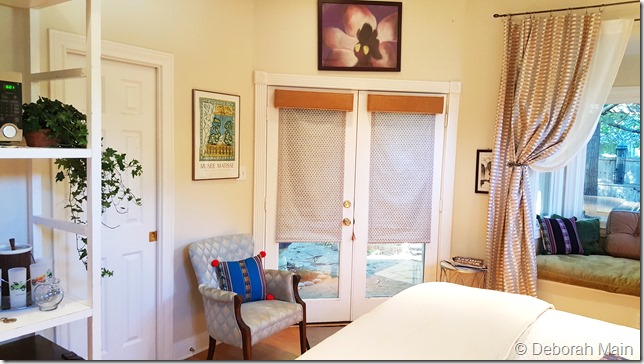 And it just so happened I already had wonderful colorful and textured pillows for my window seat from Bolsa Bonita with pompoms and custom pillow designer Cheryl Coleman (who made that fabulous center peacock pillow!). And it just so happened, as a textile artist myself, Deborah Main Designs had purple and rich teal blue over-sized pillows that pulled all the above colors together in the room. I love how the pillows complement the colors in my Janis Joplin poster, cause I just had to put her on the wall for some vintage "South Austin Vibe" !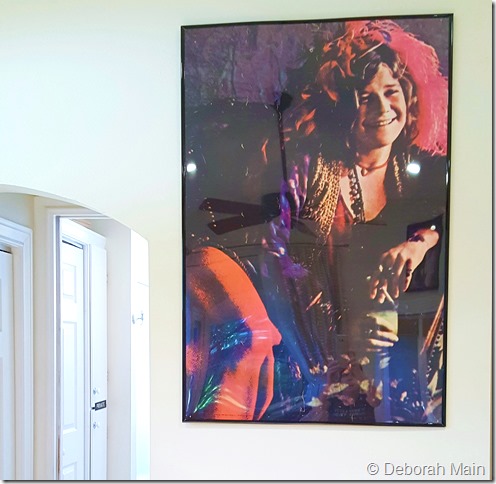 4. Keeping an open mind and letting the sales associates who know fabric make some recommendations.  I was thrilled to find textiles that worked perfectly for the drapes and shades at my local neighborhood fabric shop, Bolt Fabrics.  Melissa suggested a textile, that frankly to me, looked like band-aids and I think I even said to her, I would never think of selecting a fabric like that. Then she said, "Well, come on over here and see what it looks like as curtains", and boy did I ever change my mind quickly!  I LOVE the modern pattern and that it picks up the golden colors in our wood flooring, shade valance, and bedding, but also adds a soft black, silver gray color to the guest room. And I was sure to run it by my interior designer Patrick Landrum of PL&D/Patrick Landrum Design  because he has that expertise in knowing how all the multiple parts of a room and the textiles selected come together. (You would think I would know this well being a pillow artist, but I'm out of my element when it comes to interior design. I leave that to the pros!)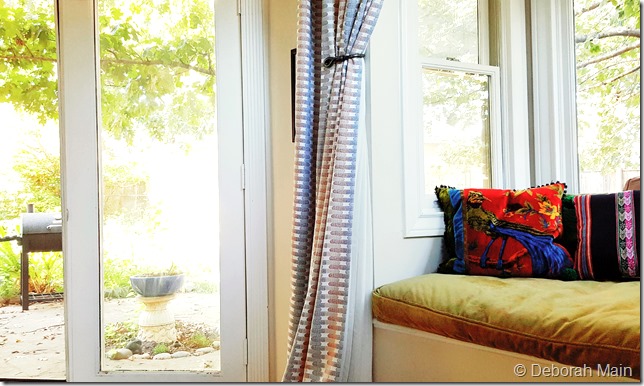 5. Saving your budget for luxury linens for the bed and the bathroom: This was THE key decision I made to invest in luxury bedding. Many advised me not to….even our guests!
But the luxury bedding made all the difference. And one thing that's always been a favorite luxury to me personally, is taking a hot bath and slipping into fresh clean sheets. And our guests loved BOTH!
I want to give a very special thanks to dear friend and long-time Deborah Main Designs supporter, Brad Cleveland, of luxury brand Peacock Alley and sales associate Levi Beaty up at the Dallas Outlet who provided these gorgeous linens that are absolutely perfect for the casual elegance I so wanted to provide our guests.  Peacock Alley provides incredible customer service and Levi didn't miss a beat!!  Our guests LOVED the bedding!
Through the one-on-one customer service I received from Levi, this luxury bedding was delivered on our door step just in time.  And I couldn't be happier with the recommendations by Brad and Patrick of the Carlo Matelasse Coverlet and Shams. Essential to our selection for both the coverlet, and the Mandalay linen duvet and pleated bed skirt, was that they all be washable, since we'd have guests coming in from ACL (which is sometimes a dust storm or mud bath weather wise!) And I fell in love with the gold Soprano Cuff Sheeting!!  I think the three together turned out to be just what I always dreamed of!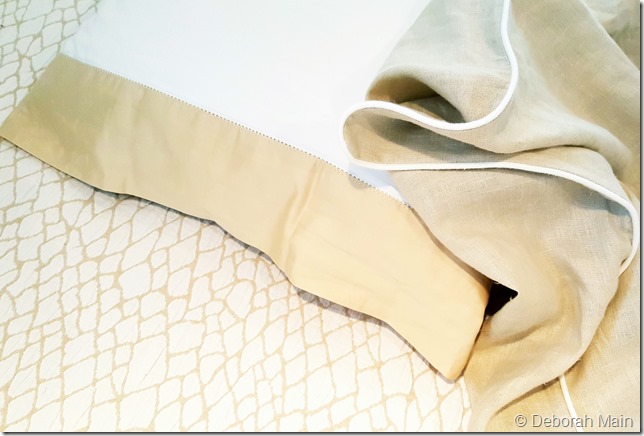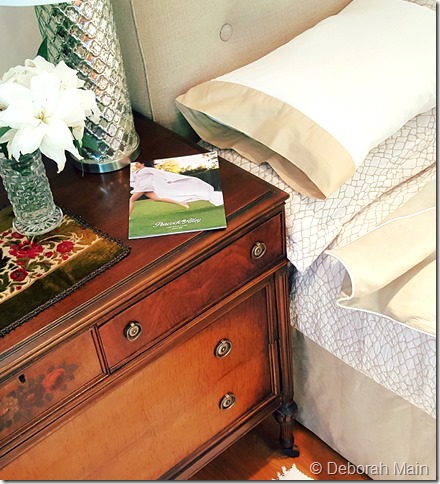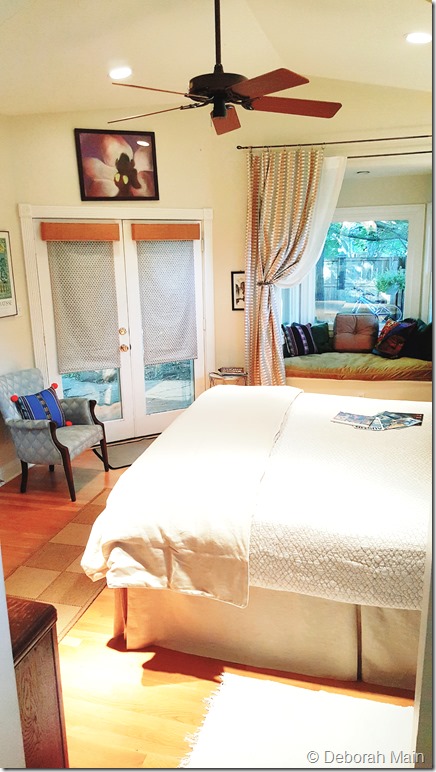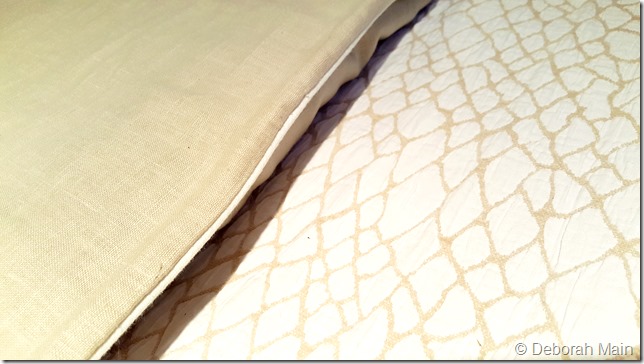 And Peacock Alley also provided the plush bath towels, bath rug, crisp white textured shower curtain and plush bathrobes.  And even a little gift for our guests! So let's step right past Janis and into the guest room bathroom, shall we?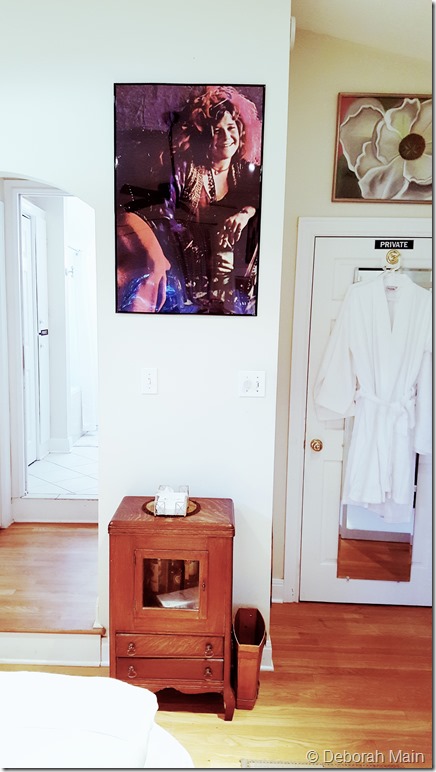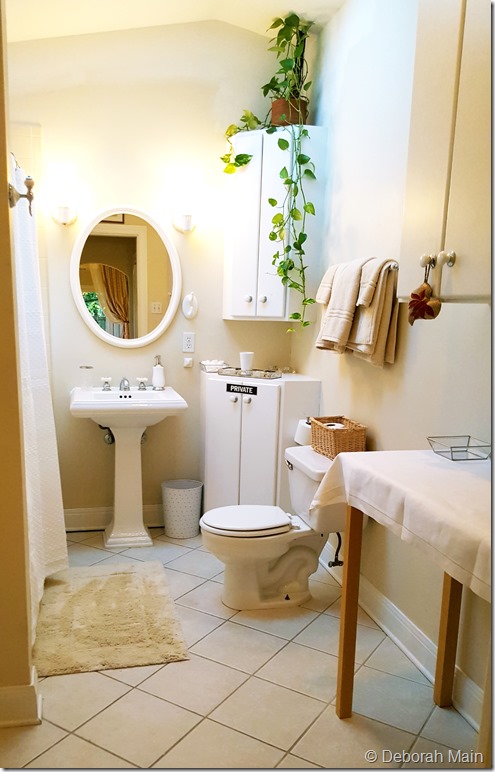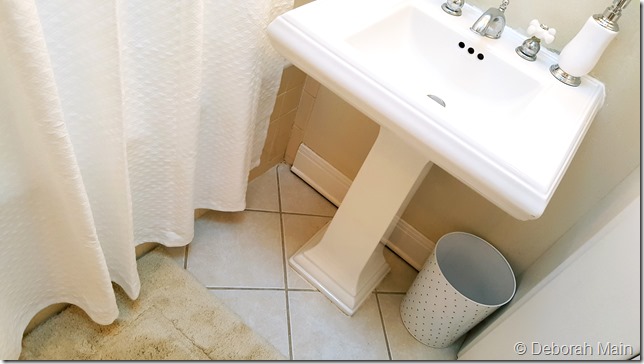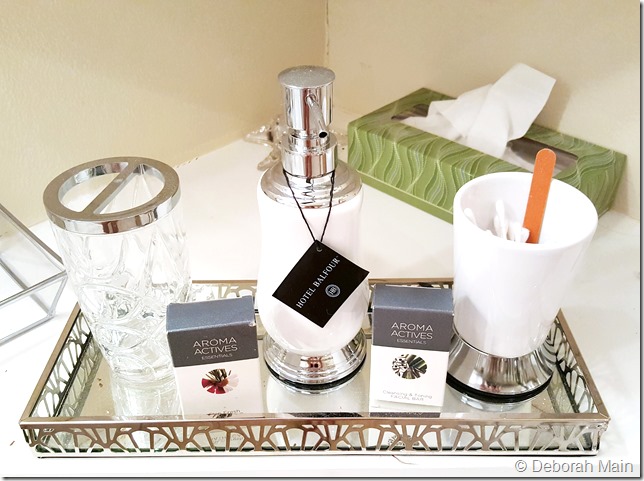 6. Last but not least, adding just the right amount of amenities into your guest room: It's the small personal touches of convenience that helps make your guests feel right at home, or rather treated royally like guests.  We did the standard coffee maker, Texas glasses, small refrigerator, and microwave. But I also made sure there were lots of magazines and brochures from the Austin Visitor Center in case our guests wanted to shop vintage or go to a nearby restaurant. We added a guest book, Lammes chocolate, a Peacock Alley gift candle, and fresh flowers. We even got them a gift certificate to our new neighborhood Gelato shop at the end of our street, Venezia Italian Gelato, which BTW, also serves a light Italian breakfast and great coffee!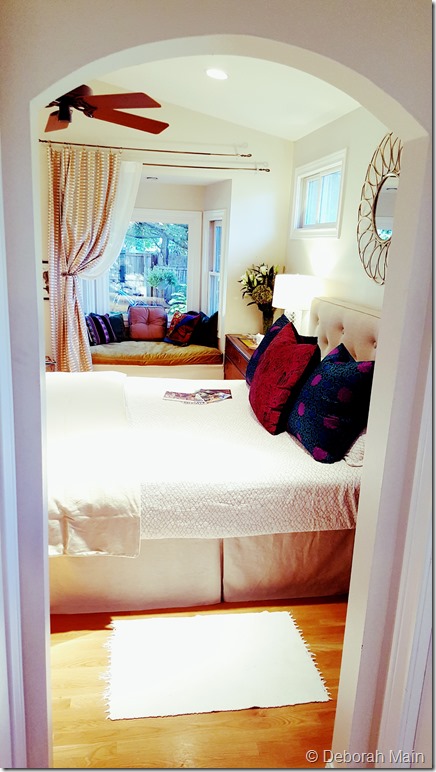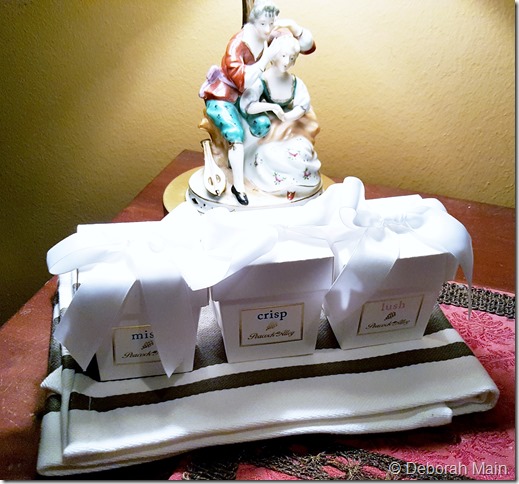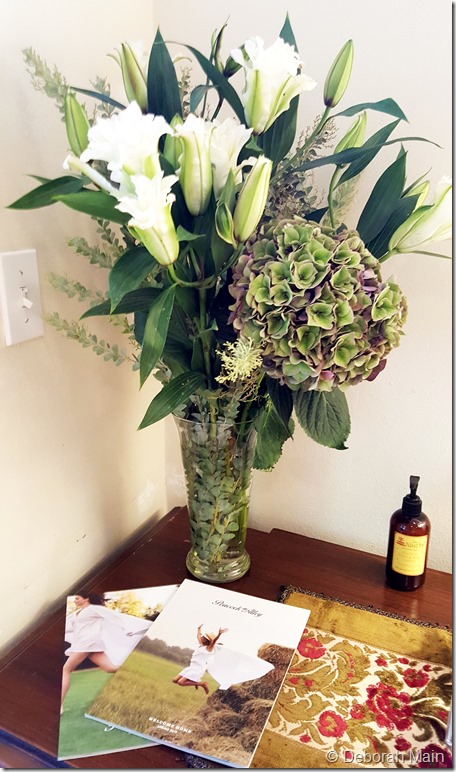 Now this story really makes it all worthwhile!  My daughter and I had decided we needed just a touch of a theme besides music for the guest room, so while vintage shopping one day at Room Service Vintage, we decided on CARS, vintage cars.  And we bought a vintage ice bucket and 4 frosted vintage tall glasses with classic cars on them.  To our surprise our 2nd guests walked into the room and said they had the EXACT vintage glasses!  Now what are the chances of that happening?!?  It gave us a really cool personal connection to our guests which I think helped make them feel very comfortable and welcome.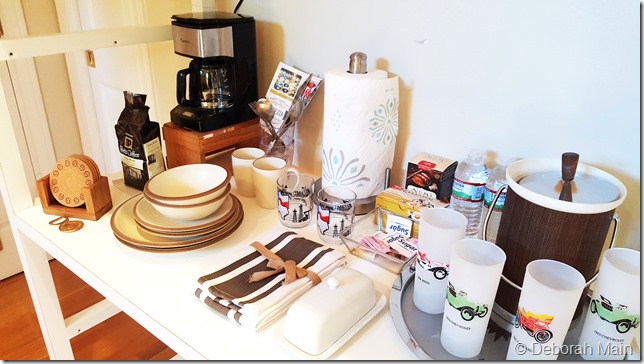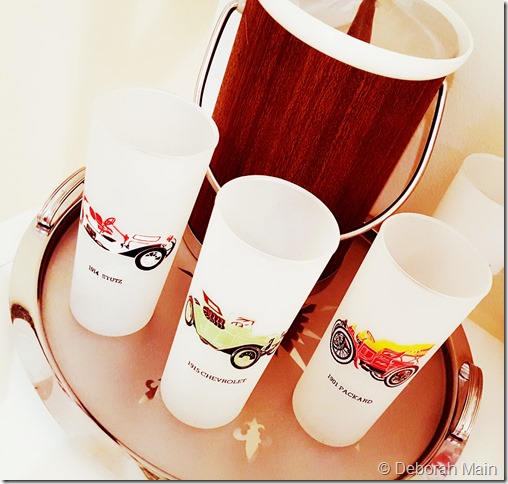 In fact, and I will conclude this lengthy post with our 2nd guests' one comment that caught our attention, their P.S. in the guest book (bought at long-time local small business, Paper Place)  was "So which one of you worked at the Four Seasons?"
We took that as the highest compliment because our goal was to create a luxurious experience for our guests and provide excellent customer service. Both guests commented that we went "above and beyond', and that is just how we wanted them to feel.
David and I would like to thank once again the FANTASTIC team that helped us pull The Collier Guest Room at Zilker Park together for our ACL guests, and future guests, to enjoy!  Here we are below, relaxing on the patio at the end of the crazy busy 2 weeks. But David and I can say with 100% confidence, that every detail was worthwhile and we look forward to our Airbnb guests returning next year.  Till next time, treat your house guests this holiday season to something extra special, XO PG