In the face of the shocking tragedy in Paris, I, like many, are grieving for not only Paris, but the world, because it affects us all.  My heart goes out to everyone who has lost a loved one or been traumatized by these horrific events. I frankly can't even comprehend the horror. So, as much as part of me is utterly sad and feels hopeless….part of me also feels like I have to keep moving and carry on with life, or I'll get even sadder. I really haven't turned on the news anymore, but have been quietly thinking of all Parisians struggling with such profound loss and grieving for their loved ones.
With this world crisis at hand, it's not going to get any easier, but we must all be united, not live in fear, and keep moving forward in our daily lives with love.
So, I thought to be most respectful of the situation, while at the same time bring some normalcy back to my life, I would dedicate this week's #TextureTuesday to Paris.  I'd like to share with you some of my favorite pieces of vintage French Passementerie.
Here at Deborah Main Designs studio, I've been collecting vintage French trim since the beginning, in 2004. In fact, it's one of the important materials that helped lay the foundation for my very first pillows, our Rococo Ribbon Collection. I don't currently make this style of pillow anymore (but have something exciting on the horizon using my vintage French trim collection!) so I wanted to reflect back a little on the first 10 years of our business where I made many a pillow incorporating vintage French trim and new ribbon. (Please note, that some of these were my very first designs, and I have learned much since then).
There was a little antique shop near some warehouses in The Courtyard in Austin, and I purchased these incredible pieces of Parisian handiwork. I was told by the owner that young Parisian women would make these 10-inch samples to showcase their incredible beading and embroidery work. They would then take the Passementerie samples to the factories to seek work.
This sample below of antique French Passementerie is at least 75 years old and I treasure it! I only have a couple left, and I love the intricate beading and the story behind it.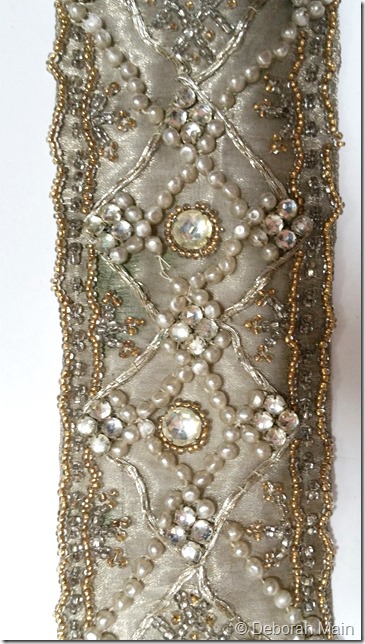 Below is one of the very first pillows I made with one of these antique Parisian beading samples.  Now that I've learned more about French Passimenterie, I would make this pillow completely different using much more vintage French trim versus new ribbon.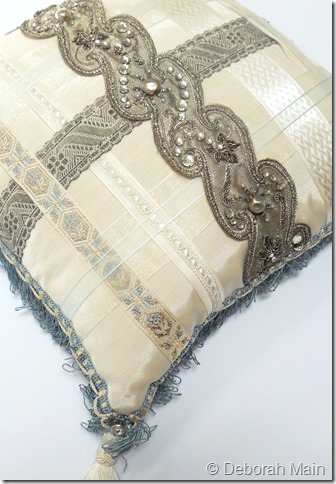 I then discovered a warehouse full of French antiques in the same complex and lo and behold, the owner Janet Wiebe, of Janet Wiebe Antiques, also collected vintage French trim in her travels.
Janet told me countless stories of the trim being from old European factories and I was captivated by the rich texture, color and history of the Passementerie, because most of the factories have now closed.
It was like being in a candy store and I could not get enough of it! It was so expensive that I first could only afford a yard or two.
This vintage French trim was one of the founding materials of Deborah Main Designs that set me on a course to have a burst of creativity and make 50+ decorative pillows interweaving this French trim and new ribbon into our signature collection, The Rococo Ribbon Collection.  I loved it – creating these pillows soon became my artistic expression. Each pillow came with a handwritten scroll that included all the details about every vintage French trim.
I so enjoyed that earlier time and grew to love vintage French Passementerie. Please enjoy some of my very first collectible designs. Most have sold and gone on to customers to become family heirlooms to pass onto their children and grandchildren, but I've kept a few favorites in our permanent collection for future generations to enjoy.
That is my small connection to Paris and one I treasure!  With loving thoughts for all of Paris, till next time, hug your loved ones and please stay safe. XO PG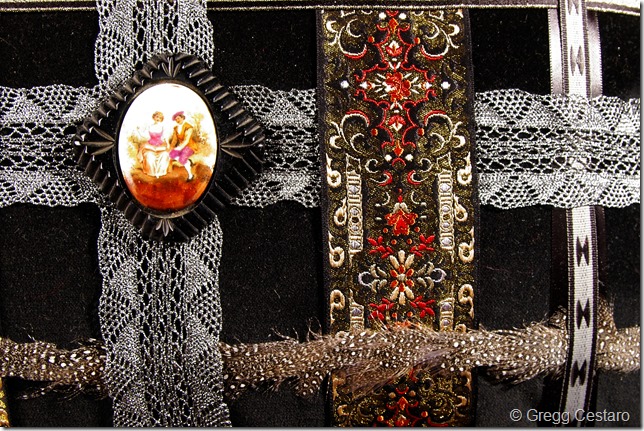 This detail above is one of my very first pillows and favorites because of the rich jet black and red orange vintage French trim, vintage platinum French lace and an incredibly gorgeous Victorian Bakelite cameo that I discovered at Amelia's Retro-Vogue & Relics.  Jane Clarke, the owner of Amelia's (one of Austin's BEST vintage stores!) was the first small business owner to see my prototypes and explain to me what kind of art I had created. Jane was so struck by my designs that she taught me everything I know about vintage brooches and materials, allowing me access to her private collection of lace and other vintage goodies. And we became fast friends! This pillow reminds me of those wonderful first few years in her shop where I would go for inspiration.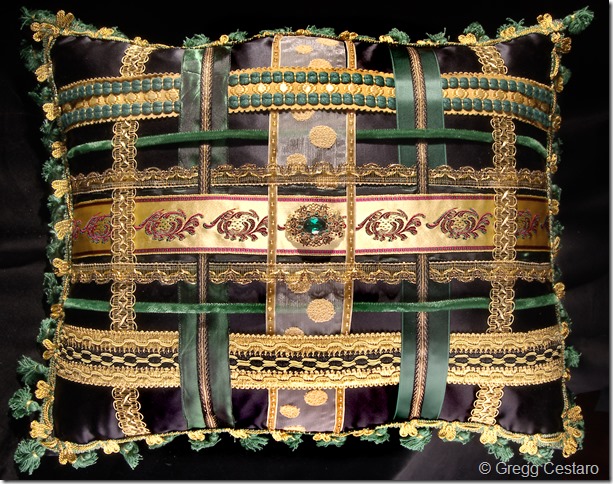 This green, gold and black pillow above is a great example of interweaving the vintage French trim and new ribbon, like that fun polka dot one front and center.  What's remarkable about this pillow (that was donated to the Junior League Of Austin's Christmas Affair years ago) is that much of the vintage gold metallic trim, particularly in the center has 14-K gold metallic thread.  This was also THE very first pillow I created with a vintage brooch from Amelia's Retro-Vogue & Relics….which soon turned into what we call now our Les Bijoux Collection. All of the examples below incorporate vintage textiles and vintage French Passementerie.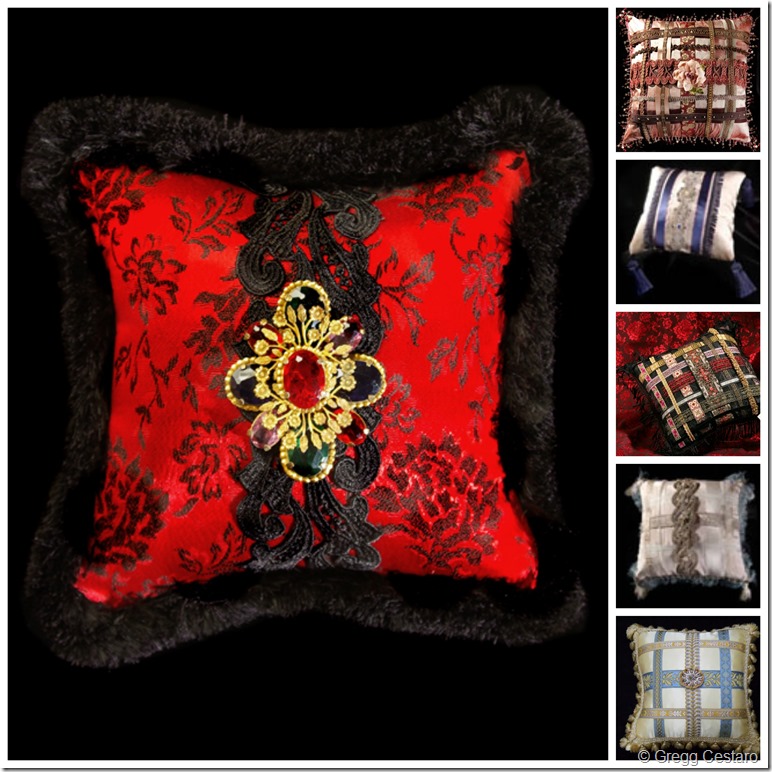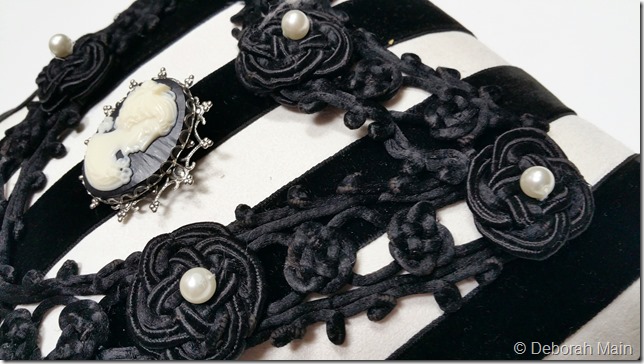 Above and below is my first pillow (now in our permanent collection) made with the intricate silk braiding of vintage French Passementerie.  (Also below are a few examples of pieces that I've collected and have in stock, with some beading as well).
This classic black & white luxury decorative pillow was a process of self-discovery.  I had 4 corner pieces, all jet black silk Passementerie, from a Victorian dress, and a dear friend, Laura Del Villaggio of Milli Starr, suggested I manipulate them into a heart.  And since no black and white fabric was to be found in Austin at the time, I made my own from faux suede and vintage French black velvet ribbon.
This Rococo Ribbon design I am particularly proud of, as it incorporates all I love about the art of making luxury decorative pillows – the exciting adventure of the creative process.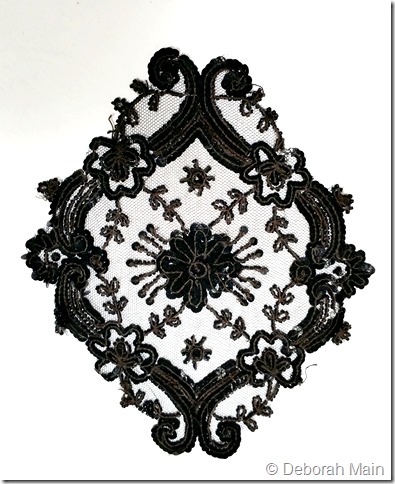 Passementerie (/pæsˈmɛntri/, French pronunciation: ​[pɑsmɑ̃tri]) or passementarie is the art of making elaborate trimmings or edgings (in French, passements) of applied braid, gold or silver cord, embroidery, colored silk, or beads for clothing or furnishings. (from Wikipedia).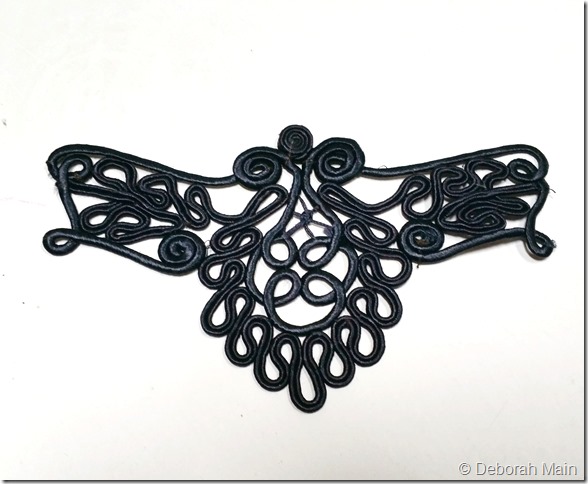 Below is the final pillow.  You can shop for pillows similar to this design in Haddonfield, New Jersey at one of our stores, The Pearl Clutch. If you're in that area, please be sure to stop by.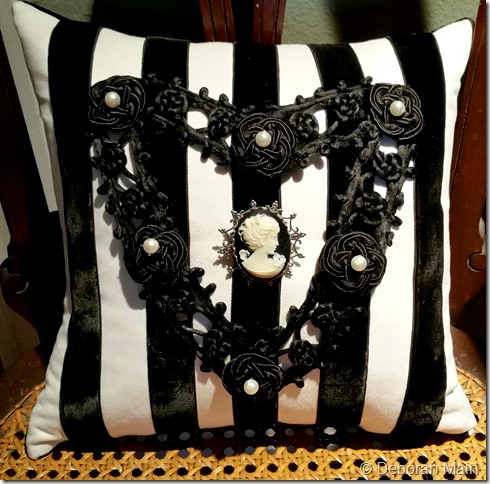 Above are some vintage French cut velvet table runners we also made into pillows along with our vintage French Passementerie.
Below are four examples of many types of vintage French trim (aka Passementerie) that we carry in our studio. Many think of Passementerie as more intricate and generally involving braiding or beading, but to me, all the vintage French trim I've collected is a form of Passementerie. All four are full of texture with metallic thread running through the design and incorporating embroidery, weaving, and tapestry.  Did I mention that we loved Janet Wiebe's vintage French trim so much that we bought her entire collection? We have an entire 10 x 10 storage unit overflowing with it! Be sure to check out all our luxury pillow collections on our website and stay tuned for a unique spin on some of Deborah Main Designs' vintage French Passementerie in 2016!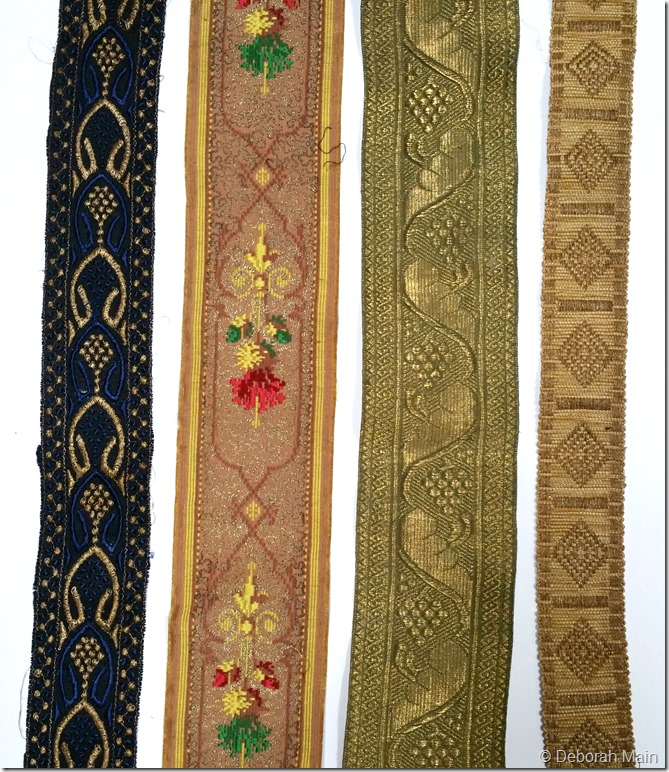 Note: This is not a sponsored post. All views are my own. All images are either mine or by award-winning photographer Gregg Cestaro.