What a whirlwind of a summer it has been and still is!  Lots of exciting developments happening in our tiny Austin, TX studio. Stay tune in September for a wonderful interview coming out on color in the industry magazine Window Fashion Vision and a webinar September 25th on Soft Design Lab.  And I thought I was going to get to hang out at Barton Springs Pool all summer…HA!

But thrilled for the opportunity to share my love of color!  And before you know it, I'll be dipping my toes in the Mediterranean, as we'll be taking a little summer break from our weekly #TextureTuesdays.  Be sure to check back here next week, Tuesday July 28th, to see how The Pillow Goddess got shot y'all!  
Till then, please enjoy this post below about how we transform vintage ball gowns into fabulous luxury pillows.  (One design is already sold out!) Hope y'all are taking time off too and having a wonderful summer with family and friends!  XO PG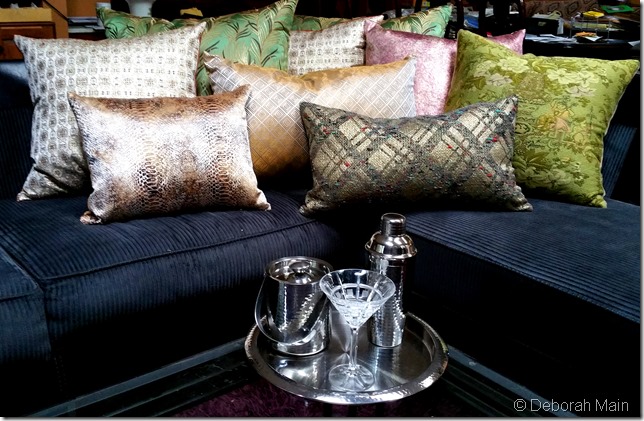 At Deborah Main Designs we've been busy as bees preparing for the June market which starts today! So for this week's #TextureTuesday, below is a brief story and images of what I love most about creating one-of-a-kind luxury decorative pillows.  And you get to see a sneak peek (before anyone else does) of Deborah Main Designs' new metallic, pale green, cream color grouping of pillows headed to Dallas later this morning!
The Dallas Total Home & Gift Market begins today, June 24th through Tuesday, June 30th, 2015.  If you're a home or gift retailer or an interior designer headed to Dallas, please be sure to stop by to see my line now available at the Doris Sanders Showroom, in the World Trade Center, #531.  We're thrilled to be back in Dallas and we hope you'll stop by!
My photographer Gregg Cestaro is out of town, so you'll have to make do with my own studio photos for now.
It was so fun to design these pillows and put a different color grouping together that is not usually my norm. I tend to go with bright, bold colors.  But for some reason, this creamy metallic, copper and even snake skin velvet really inspired me.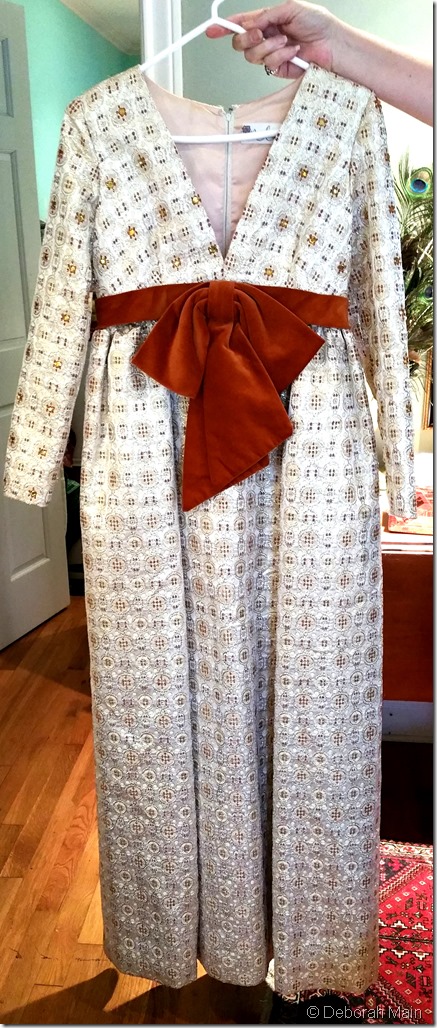 Above is a 1960's dress that I fell in love with at Austin's City-wide Garage Sale a month ago.  It was torn in some places, but the brilliance of the gold metallic brocade against the rich luxurious copper velvet really caught my attention.  And it was so inspiring to work with.  When I bought it, I knew I had that exact color ultra soft velvet my dear friend Laura Del Villaggio of Milli Starr had given me, that would be absolutely perfect for the backs of this pair of pillows.  I couldn't wait to get started!
 Below I transformed this dress into a luscious pair of 22 x 22 luxury pillows with rich copper velvet on the back. (I apologize for the poor quality of photo that doesn't quite capture the amazing metallic texture with this vintage textile!)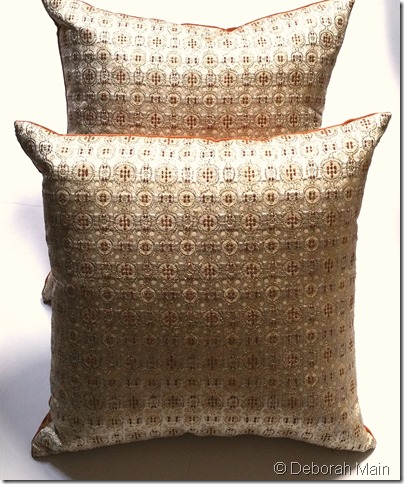 And I'm saving the top part of the dress with this magnificent copper velvet bow for a soon-to-be Les Bijoux de Luxe pillow, as soon as I find the perfect vintage brooch for it!
Now THAT's something to look forward to and really gets my creative juices flowing.  I love more than anything to transform slightly damaged vintage cocktail dresses and gowns into beautiful pillows just for you!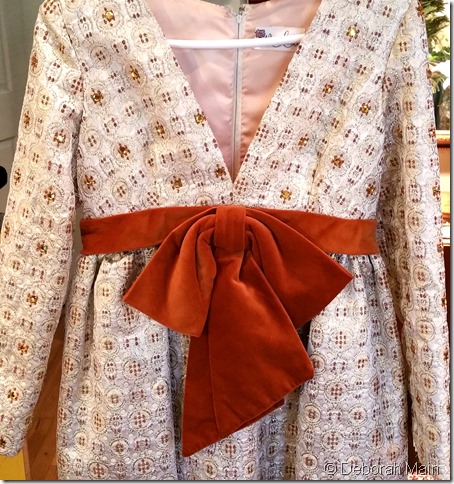 Below is the 1960's pair along side a beautiful pale green, blue, gold and copper new silk brocade filled with ferns.  Love these two pairs together!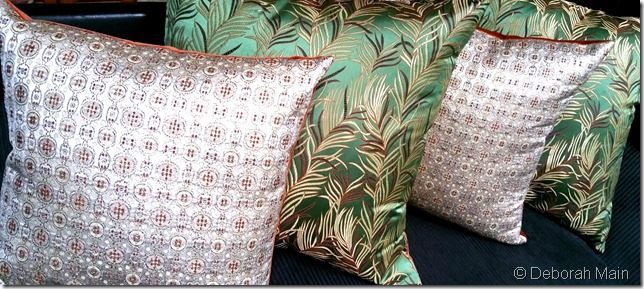 I'd be remiss if I did not remind you that ALL our pillows are American Made, handcrafted right here in our specialty studio, Deborah Main Designs, in Austin, Texas! And we're in the Gift & Accessories magazine's new "American Made" section below., so be sure to pick up a copy while at market.

Now back to the pillows.  Below  is the front of the 27 x 27 over-sized silk brocade green fern pair.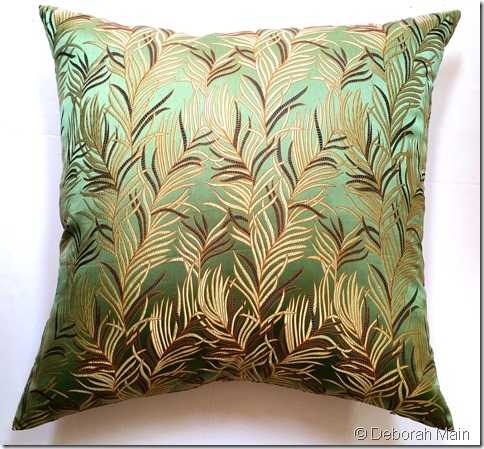 And below, here is the back of the same silk brocade fern pair.  We often put something full of texture, or a contrasting pattern, on our pillows to create almost two pillows in one, as the homeowner can use either side. Both sides are handcrafted from new silk brocade that I hand selected in Suzhou, China, along the silk road.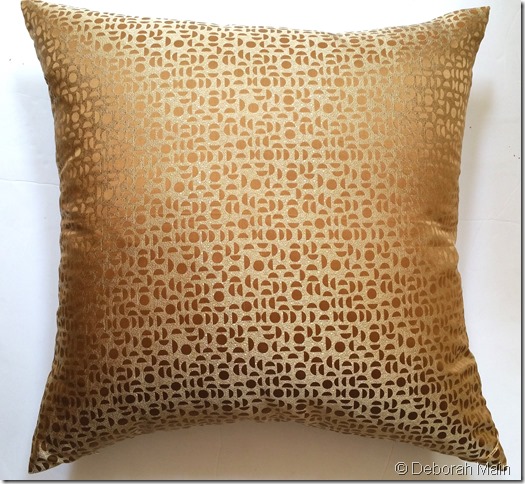 Now, I threw in a small dash of subtle creamy pink into this grouping with this fabulous vintage textile below.  It's almost like an impressionist painting and wait until you see in person at the showroom the blush colored velvet on the back!  Yummy!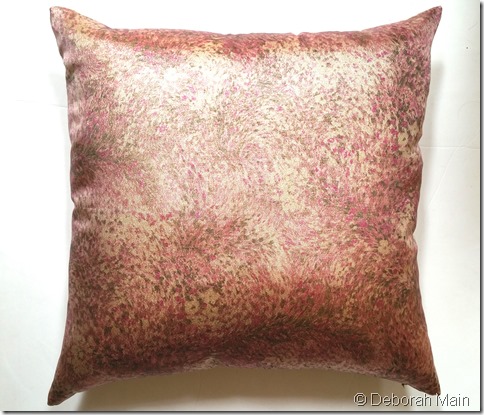 Now this one below is not brand new, but there are only TWO of these left.  This 14 x 24 pillow (a pair, backed with vintage pin striped charcoal wool) is handcrafted also from a 1960's gown.
It is one of my all time most favorite textiles!! It not only is metallic but it has the most amazing texture with different colored nubs of wool, from aqua to tomato, throughout.  A divine vintage textile ONLY available in very limited quantities at Deborah Main Designs!
That's what sets us apart from other pillow design studios is that we hand select all our textiles, from new to vintage, and try to find textiles that you've never seen before. And the best part for me as an artist is I get to re-purpose vintage dresses and gowns into heirloom-quality pillows just for you. 
That's what I love about being a pillow designer! It's the thrill of the hunt, and the excitement that comes when you know you have just the perfect fabric to go with a recent vintage purchase.  It's truly a magical experience for me!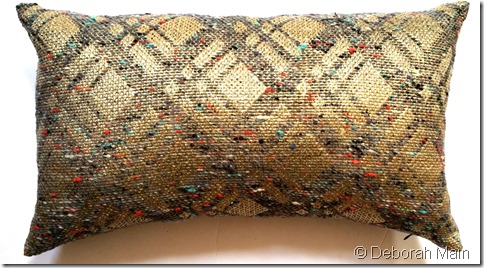 And last but not least, for this week's #TextureTuesday is this contemporary fabric of a snake skin velvet.  It is full of texture and we've made a pair of these for you to shop for this week at The Total Home & Gift Market in Dallas. 
We at Deborah Main Designs hope you've enjoyed being the first to see our new designs for market. If you're one of our long-time stores, please be sure to pop in to see what's new. And if you're an interior designer or store that hasn't yet shopped our line, please come introduce yourself to us at The Doris Sanders Showroom, WTC-531 to see the luxury we can bring to all your client's interiors. I'll be at the showroom from 3:00 today through Saturday or Sunday.  Really look forward to seeing you!  And we have a special gift and discount for all new opening orders, not to mention all day frozen margaritas.  And I just saw that Libby Langdon is speaking Friday….she is definitely not to be missed! I can't wait to hear her speak!! Happy Summer all and see you at market!  Till next week, XO PG