marketplace
Linen and Wood Pillows
"Pillow Goddess" Deborah Main made her High Point debut this spring in a display for Universal Furniture created by celebrity designer Kelli Ellis. The American-made linen pillows feature vintage French trim with wood that's been hand-turned by Jeff Hornung of The Walnut Log, also handcrafted in the United States. Main is best known for meticulously handmade pillows incorporating textiles and embellishments of bygone eras, updated for a contemporary aesthetic.
COMPANY INFORMATION
Deborah Main
1906 Collier St.
Austin, TX 78704
512.447.9807
inquire@deborahmaindesigns.com
http://www.deborahmaindesigns.com
The answer is pillows, but of course!!
If you've been following my blog for the past few years (Subscribe right HERE), you know I absolutely LOVE wood!!  Driftwood, dead wood, trees, the grain of wood, you name it, I love wood. And for 6 months, wood turner Jeff Hornung of The Walnut Log and I have been working behind the scenes on perfecting this exciting new collection. (I can't wait to tell you what his pick up line was…lol!!)
So I just had to share this press piece, as I'm thrilled that Home Fashion Forecast editor Laura Van Zeyl spotted our BRAND NEW collection Linen and Wood (which will be on the new website coming soon!) that we custom made for celebrity interior designer Kelli Ellis's installation for Universal Furniture during High Point Market.
Please enjoy a few pics, as I love how Kelli mixed up our Linen & Wood Collection featuring orange chenille vintage French trim, with our Redbrick Modern collection, a pair of cool blue and lime green graphics pillows, all on this gorgeous blue velvet tufted sofa, a new fabric line by Universal Furniture. Who doesn't love blue velvet!?!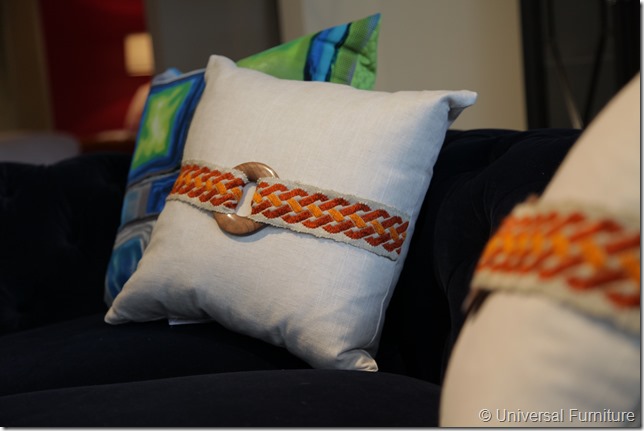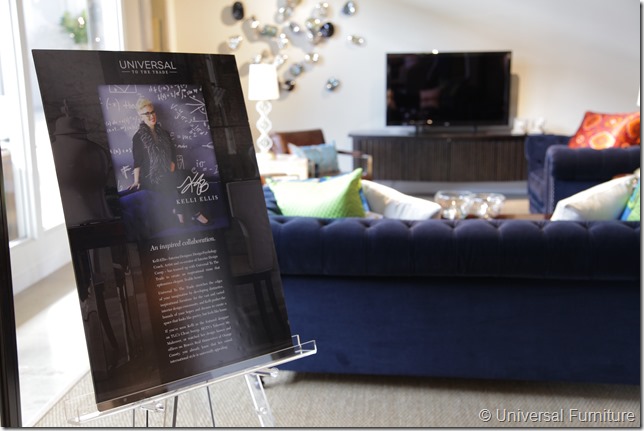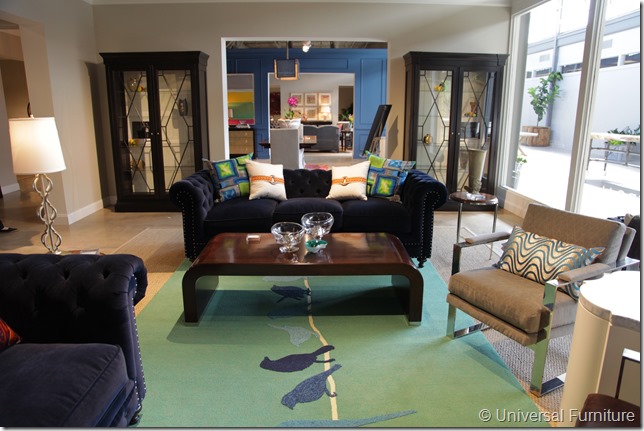 Thank you so much Laura for naming our new collection "Linen and Wood" and featuring it in Home Fashion Forecast's April 26th newsletter HERE!  Be in the know, and sign up to receive all of Home Fashion Forecast's latest news on home design trends right HERE.
And many, many thanks to Kelli Ellis for asking me to design all her pillows for her beautiful display!
That's one thing you can count on with our luxury brand, we at Deborah Main Designs, will take care of ALL your pillow decorating needs on time. Just ask Kelli!  So reach out to our studio and let us help you with your next project. 512.447.9807 or inquire@deborahmaindesigns.com
Ever hire an interior designer before? More coming up next week on the benefits of hiring a professional interior designer or consultant (believe me, you will want to pronto!) and what it's like designing pillows for two interior designers and two shows at the same time. Absolutely thrilling!!! Till then, enjoy this beautiful spring weather and be safe #TurnAroundDon'tDrown in all this rain we've been having in Texas.  XO PG